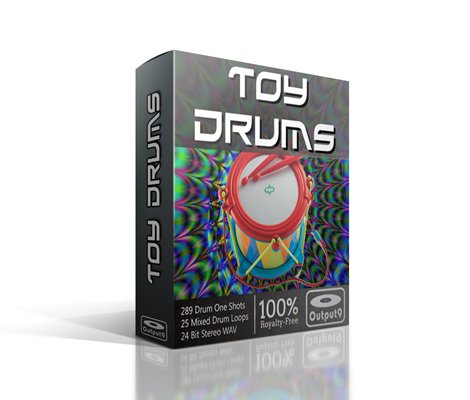 Categories: Sample Packs
Price: £19.95
Output9 Toy Drums is a great collection of samples from toy keyboards from the 80's & early 90's Suitable for Electro, House, Lo-Fi & Acid rythym creation.
These synth keyboards were never intended for proffesional use but have found their way into popular music, particulary dance music.
This sample collection has taken the hassle out of sampling these machines, that are getting more expensive & harder to find, especially with collectors & circuit benders. This pack puts all the sounds in one place ready to load into your favourite sample player.
Samples Include:
ONE SHOTS
AR 610
Casio MT-18
Casio MT- 100
Casio MT – 500
Casio MT – 800
Casio PT-30
Casio PT-68
Casio PT-1
Casio PT-30
Casio PT-68
Casio PT-82
Casio Rapman
Casio SK-1
Casio VL-1
EH-Rhythm 12
Maestro Rhythm MRQ-1
Mattel Synsonic
SR – 88
Yamaha DD10
Yamaha PS-55
Yamaha PSR
Yamaha PSR-82
Yamaha PSS-140
Yamaha PSS 80
25 x Mixed Drum Loops
Although some of these are not toys they are old & experimental enough to include in the collection.
24 Bit Stereo WAVs
---
Related Products